Shopping Cart
Your Cart is Empty
There was an error with PayPal
Click here to try again
Thank you for your business!
You should be receiving an order confirmation from Paypal shortly.
Exit Shopping Cart
Helping You F​ind the College that Fits
Tips on Managing the College Admissions Process
By Jennifer Brase

As school begins and the long days of Summer fade into the first days of Fall, I am reminded of how fast our children grow up. In fact, this week I sent my own son off to college. It is a bittersweet time; on one hand I know he is ready to leave the nest confident that he has become a responsible, godly young man. On the other hand, I am grieving the loss of the presence that he has had in our home for 18 years. Even though I have done college counseling for years and guided many students through this process, this time it is my own son, which made me understand on a personal level, all the complex feelings parents have regarding the whole college process.
When parents worry about college, they are really worrying about whether they have done enough as a parent to equip their child to succeed. Did I teach them to work hard? Do they know how to make good decisions? Are they equipped to handle conflict? These are the questions that are wrapped up in every child's college search. I can tell you that regardless of how well you think you've done or not done as a parent, God is sovereign and He makes up for the things that we lack in parenting¬–including where they will go to college. As much as we think we have equipped our kids, God will ultimately guide our children to where He wants them to be to continue to develop them more fully into His image. This should bring us comfort knowing that the Lord is making up for all our parenting inadequacies.
As you send your child off to school this year, turn your worries into prayers for their future knowing that the Lord will honor those prayers. And one day soon, you will be dropping off your son or daughter at college knowing that they are right where God wants them.
By Cathy Huseby
Is your son or daughter starting college this fall -- and can't wait for the adventure? Or are they a little nervous? The mix of emotions as they graduate from high school and anticipate beginning college is very normal, especially given this big life transition. Welcome to the world! This is where the skills they have learned and are in their toolkit will come into play -- skills that may be new to them, but are the adult tools we use every day, and ones they will hone as they grow and use them. Helping them prepare for this transition is a gift you can give your son or daughter over the next few months. Here are a few tips:
Regarding Transitions: It's pretty common to feel homesick when living away from home for the first time. Help your son or daughter navigate those feelings, and then help them know how to strategize getting involved in college. They will meet students similar to them, and some that are different. Help them know they don't need to change to fit in. Let them know that finding their niche is important, as well as being true to themselves.
Regarding Roommates: Living with roommates can be a wonderful, fun and rewarding experience! Sharing a room with someone is also a great growth opportunity. Talking about expectations ahead of time is important. Learn about each other's styles and talk about how to work with them. This can help minimize conflict, whether it's regarding music (loud? only with ear buds?), cleaning (who does it? how often?), messiness (where to allow messes?), decorating styles, friends over, boyfriend/girlfriend over (boundaries with this), etc.
Regarding Day-to-Day Stuff: Hopefully, your son or daughter has had experience managing day-to-day stuff, but the summer before they launch is a great time to sharpen those skills! They should be doing laundry, grocery shopping, planning and cooking meals, managing a checking account/debit card, and figuring out how to get around -- all skills they'll need before college begins. Essentially, it's Independent Problem Solving - learning to figure out things on their own.
Life in the Classroom: There will be many new things (activities, people) pulling for their attention in college. Not only will they need to learn how to handle this, but don't be surprised if their GPA isn't quite as high as it was in high school. They're competing with other strong students here, after all. TIME MANAGEMENT will take on new meaning - and learning how to do it effectively is a fantastic life-long skill. Remember, school is their priority and learning to advocate for themselves is essential for success. Choosing early on how to prioritize their time (party? or study?) will make a difference.
Student Life: Oh, yes. The reason they need these skills is because they will be college freshmen -- new to the university! As such, they'll need to know how and where to get financial aid or student accounts questions answered, how /where to talk to an advisor (either a general academic advisor or one in their major), where the career center is (they'll want to spend time here! This is a hub for internships, part time jobs, and career direction), where the student health center is, and where to get the scoop on getting involved on campus.
Your student will thrive in college. The road may have a few bumps, but with this tool kit, they are sure to have the skills needed to weather the bumps and to really enjoy the ride.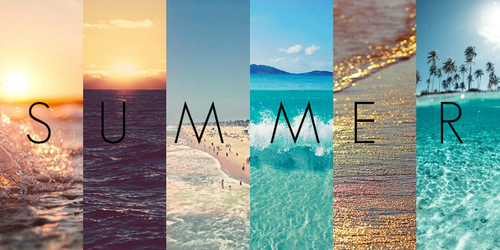 By Cathy Huseby
Summer . . . time to relax, go to the beach, and just chill. Or not??
As a high school student, your motivation doesn't end the last day of school. To be resourceful and multi-dimensional as a college applicant a few years from now, you might want to consider the following in making good use of your time and talents:
1) Consider getting a job. That's right -- a job, where you earn a paycheck. Getting a job shows initiative, willingness to work hard, and a desire to learn new skills. These are great traits!
2) Consider getting (or creating) an internship in a field that interests you. This takes creativity and initiative, but what better way to experience the field you are considering by working (or volunteering) alongside someone else who is doing what you love?
3) Try something new -- broaden yourself. Now is the time to show that you like to learn, not just academically, but outside of school. Pick up a book and learn Latin, take a rock-climbing course, try paddle boarding, or teach yourself to sew. Keep active!
4) Explore colleges you are interested in. Take a virtual tour, explore their majors, go on their course catalogs and read course descriptions, and actually visit the college. What better way to get to know if this college is a good fit for you!
5) Work on a project that is meaningful to you. Or volunteer. These can be related to what you value; what you feel is important. It can be working with kids, working with pets, working with seniors, or working for a cause. Enjoy it!
6) Explore your interests - if you have no idea what you'd like to major in, take some self-assessments and explore more of what YOU might enjoy doing as a career. We can help you get you started.
How you best use your summer can make an impact on how you are perceived in the college admission process -- do it well!
/